6 Days Chepe Express Train First Class (Tuesday, Thursday or Sunday) Mochis-El Fuerte-Bahuichivo-Barrancas-Creel-Chihuahua
6 days
Start: Los Mochis, México
End: Chihuahua, México
Itinerary
To see the description of the day activities clic on the videos or description button
Arrival - Los Mochis - El Fuerte
Details
El Fuerte - Chepe Express first class - Bahuichivo - Cerocahui
Details
Cerocahui - Gallego Hill - Urique Viewpoint - Copper canyon
Details
Copper Canyon - Adventure Park - Transfer to Creel
Details
Creel - Surroundings of Creel - Lake of Arareko - Mission of San Ignacio - Valleys of Rock Formations - Transfer to Chihuahua
Details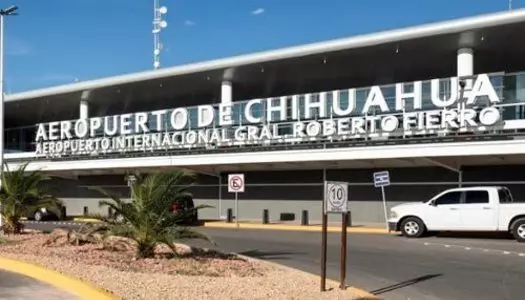 Chihuahua - Airport - End of our services
Details
Visited Places and Cities
Los Mochis, México
El Fuerte, México
Bahuichivo, México
Barrancas del Cobre, México
Creel, México
Chihuahua, México
Expected hotels
Day 1

Lodging at Hotel Posada del Hidalgo at El Fuerte ****

Day 2

Cerocahui Mission (Full Board) ****

Day 3

Hotel Mirador (Full board) *****

Day 4

Accommodation Option: Quinta Misión ****
Accommodation Option: The Lodge At Creel ****

Day 5

Lodging at Hotel Ramada Encore ****
Accommodation option: Quality Inn ****
Price include
Day: 1

Transfer from Los Mochis Airport to El Fuerte

Day: 2

Breakfast at Hotel Posada del Hidalgo* (Según hospedaje)
Transfer from El Fuerte to the train station
Chepe Express One-Way First Class: El Fuerte-Bahuichivo T1
Transfer from Bahuichivo Train Station to Cerocahui
Dinner included at Hotel Misión Cerocahui

Day: 3

Breakfast at Hotel Mision* (Según hospedaje)
Tour to Cerro del Gallego and Urique Viewpoint
Transfer from Bahuichivo to Posada Barrancas
Meal included at Hotel Mirador* (Según hospedaje)
Dinner included at the Mirador Hotel* (Según hospedaje)

Day: 4

Breakfast Included at Hotel Mirador* (Según hospedaje)
QM Tour to Copper Canyon Adventure Park from Divisadero and end in Creel

Day: 5

Breakfast at Quinta Mision* (Según hospedaje)
Breakfast at the Lodge at Creel* (Según hospedaje)
QM Tour 1 - Creel Surroundings Tour ending in Creel
QM - Transfer from Creel to hotels in Chihuahua

Day: 6

Breakfast at Ramada Hotel in Chihuahua* (Según hospedaje)
Continental breakfast at Quality Inn Chihuahua Hotel
QM - Transfer from your hotel in Chihuahua to the airport
Detail
The Copper Canyon is made up of a series of canyons that are located between the states of Sinaloa and Chihuahua in Mexico. They are crossed by the route of the famous Chepe train, the only passenger train in Mexico.

This is one of the most beautiful trips in Mexico for various reasons: the route offers breathtaking views of the canyons as it passes over bridges, rivers, and tunnels; the hotels along the route are charming, for example, the Hotel Mirador has been awarded for having one of the most beautiful views of the terrace in the world; Adventure Park Copper Canyon has the third longest cable car in the world and the longest zip line in the world at 2.5 kilometers long; Finally, the Copper Canyon is home to the Tarahumara culture, which is one of the most interesting on the planet.

Your accommodation will be in the best hotels of each station, the most recognized and emblematic at the national level in the Copper Canyon. The rooms are two double beds and do not have extra bed services. It is important that you do not forget to take your printed train tickets, these are sent by email after making your payment.
Map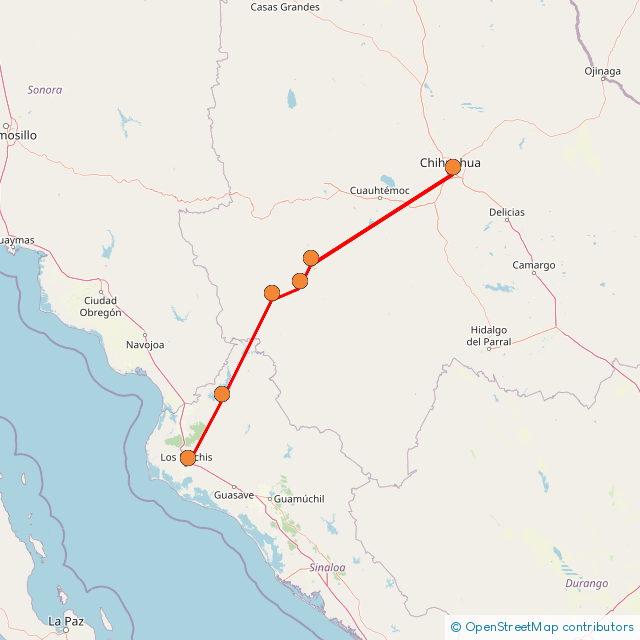 The maps are automatically generated and an indicative and inaccurate representation of the route.
Reviews
Review from:
Maria Eugenia Zavaleta Bautista
Fue un sueño cumplido cinicer esa parte de nuestro México fue fabuloso y gracias a Hoteleus porque siempre al pendiente de todo
Related tours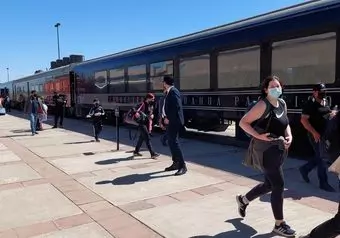 7 days
Start: Chihuahua
End: Chihuahua
5 days
Start: Chihuahua
End: Los Mochis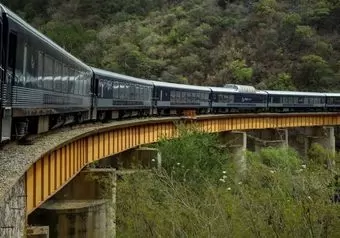 5 days
Start: Chihuahua
End: Los Mochis